Please note: DKW used 2 different crankshafts in SB 200. Relative to the dynamo different in size of threading for rotor fastening nut (M 14 and M 16). Please indicate what nut size you need when ordering.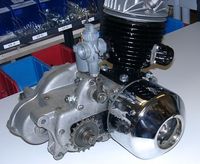 Magnet based generator with integrated solid state ignition. Output at 12V/100W DC (at express demand 6V/75W option available). Replaces old dynamo, points, centrifugal governor, ignition coil. You may drive without a battery, if you want. Ignition ist static as with the modern carburants and the high tension ignition there is no need to have reduced advance at startup. Rotor weight is now 2kg in place of formerly 4. This reduces wear on bearings and gives smooth driving.


not for SB 200 with stock dynastart
advantage over original system
all parts are new
more light output
very stable ignition with solid spark
better starting, better fuel burning
no wear anymore on points
no delicate centrifugal governor
documentation
Notes
There were

two

different crankshafts

,

different in size of fastening nut for rotor.

(

thread 14 and

thread

16).

Please specify

when ordering

thread size

. If no indication is given to us, we deliver M16. If you than find you need 14 you have to order this nut as an individual part.
photos