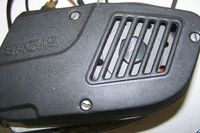 Magnet based generator with integrated fully electronical ignition. Output at 12V/100W DC. Solid state ignition with own power supply from within the system. Replaces old dynamo, points, ignition coils.

No changes on engine casing needed. The system is technically capable of running without battery.

Enlarge picture by clicking onto it.