This is a follow up system for 70 87 999 00. Main difference is that the difficult to adjust pickup in the tower was eliminated.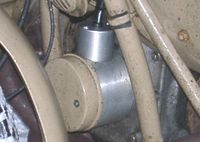 Magnet based generator with integrated fully electronic ignition. Output at 12V/180W DC. Replaces old Noris DS Dynamo complete with regulator and the Noris or Bosch Magneto The system is technically capable of running without battery. No changes on engine casing needed.

Ignition coil, regulator and advance unit may be fitted under engine top cover. Fastening material for this is not supplied
Advantage over original system
all parts are new
solid state ignition and advance
more light output (with light bulb 40/45W)
very stable ignition with solid spark
better starting, better fuel burning
no wear anymore on collector, govenor and points
please note
This is a replacement system, not a 1:1 copy of the stock material (if you want this you will need to address Zündapp). We use the main components also in other similar systems as only multi use material enables us to offer a resonable price, especially on such rather complex constructions.

The housing is made of aluminium, hence alu-coloured. The seat area for the (not delivered) front cover is different. See dimensions here. Fastening holes for the cover are (from oct 18th on) M5 and are horicontally spaced by 76mm and there are 15mm long spacer bolts for the cover. The wire exits the tower at rear.

Please note that this system can not be used in other Zündapp (K/KS 500/600/601) or BMW R75WH as it differs in one critical dimension, even as the stock systems are reportedly interchangable.
Documentation
Photos