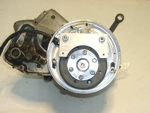 Magnet based generator with integrated fully electronic ignition. Output at 12V/150W DC.
Solid state electronic battery-ignition, that ignites at start revolutions from 60rev/min. So you avoid starting problems at your magneto with your otherwise solutions (control cable or electric starter).
Replaces the original 6 Volt DC Noris magneto of type MLZ, incl. centrifugal governer, breaker and ignition coil. No changes on engine casing needed. Ignition coil, regulator and converter must be installed outside of the motor.