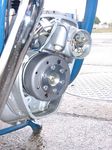 Magnet based generator, replacing original L45/60 and regulator. Depending on version 6V/100W or 12V/150W.
No need for changes on engine housing.

The system is technically capable of running without battery. If you have changed the stock magneto ignition however to a battery based ignition you will need a battery! The 6V version has no provision for a charge indicator bulb.

You can not later convert this to the full system with ignition.