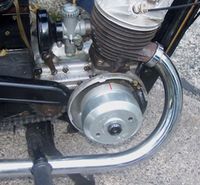 Magnet based generator with integrated solid state ignition. Output at 12V/180W DC (at express demand 6V/100W option available).

Replaces old dynamo, points, centrifugal governor, ignition coil. You may drive without a battery, if you want.

Ignition ist static as with the modern carburants and the high tension ignition there is no need to have reduced advance at startup. Rotor weight is now 2kg in place of formerly 4kg. This reduces wear on bearings but still gives smooth driving.