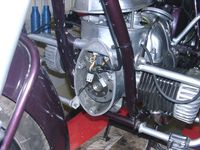 Magnet based generator with integrated fully electronic ignition. Output 12V/150W DC. Solid state electronic ignition with own power supply from within the system.

Replaces the old dynamo GMR 6/45, inclusive of govenor, points and condenser as well as the ignition coils. There is no need for changes on engine casing. You may drive without a battery, if you want, you will have to install in that case however a large capacity condenser.

All components, except regulator are housed inside the engine and are hence not visible from outside.