70 10 444 00

Powerdynamo High Performance Silicone ignition cable, by the meter, black, 7mm, copper core, double silicon insulation for up to 40KV, temperatur resistant to about 220 C° (802 F°) , quite flexible cable

from bulk material, length of 50cm (19.69 inches)

Note: When you order more than one unit we do not cut the material into 50cm pieces to give you the freedom of length.

This silicone cable has much better characteristics than the PVC cable. It is now delivered as standard with Powerdynamo systems.

The nomination with High Performance relates to the usability for very high voltages of up to 40KV and not any tuning capacity as are claimed from certain "spark enhancing" cables.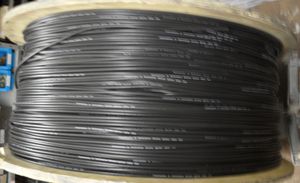 70 10 400 00

High tension (HT) ignition cable, black, 7mm, copper core, silicone insulation outside and inside (double layer insolation),
with 90 degrees rubber jack, waterproof, no antiparasite (no resistor inside).
For offroad use.

please consult your national regulations for use on public roads