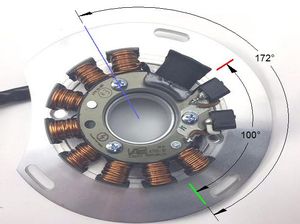 click picture to enlarge

with the introduction of a new advance control units for internal trigger 4 stroke systems (giving better starting performance, but otherwise same characteristics) the position of the ignition marking on the base plate is shifting by 100 degrees into rotating direction.

We now use only this unit, recognisable by the green colour of the wire going to the ignition coil (older one was grey) but pictures in assembly instructions may still show the marking in the old position. You may rest assured that the matking has been put into the correct position by us, even if the pictures show otherwise.