This is a follow up system for 70 85 999 00.
Main difference is that the difficult to adjust pickup in the tower was done away.
Assembly has been greatly simplified as a result.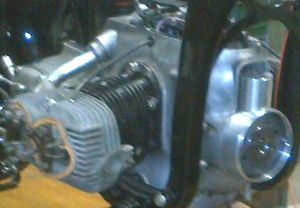 Magnet based generator with integrated contactless, fully electronic ignition. Output at 12V/180W DC. Replaces old Noris magneto of type DS with regulator and centrifugal govenor. On R75 and KS750 the magneto unit and on KS500/600/601 the points/ignition coils arrangement. The system is technically capable of running without battery. No changes on engine casing needed.

Ignition coil, regulator and advance unit have to be mounted outside the engine (on some models it can be accomodated under engine top cover) on BMW ignition coil can (with some effort) be placed inside magneto housing.
Ventajas comparadas con el viejo sistema
todas las partes son nuevas
solid state ignition and advance
luz mucho más clara (with light bulb 40/45W)
encendido muy estable con chispas de alta energía
mejor arranque y mejor combustión
ya no hay ningún desgaste en el ruptor
Documentación
Photos