---
---
As we offer nearly 500 different systems which are composed of about 2000 different parts, we need to compose them from the individual parts. No system is ready on the shelves. As those many different parts move rather quickly and as sales fluctuate a lot between the systems it is only possible to give a delivery date at defined moments, not in general.
---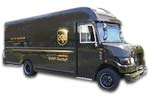 When buying via our Onlineshop you get availability traffic lights . Click onto them and you get some explanation.

Those are maximal delivery times which contain some safety margin. Law requires us to inform the consumer on a latest delivery time.
BUT ...
When ordering via our onlineshop you, as a consumer, get within one working day email informing you on a more precise, often much shorter, delivery schedule (provided the mail address you gave is correct and working!).
Also, at time of despatch you get a tracking mail from UPS providing you with details on the whereabouts of your shipment. (If shipment is by German Post you will also get tracking info, but this is not complete)
Please also note
that we do not process your order if payment had been without success.

From experience we know that some customers press for urgent and speedy delivery but take days, at times weeks, to execute payment. Some never pay.

As a result it would happen that we have packed parcels idling around here, containing parts other customers would urgently need. We had times with some 20 parcels idling around, many of them had to be unpacked at the end.

consequence:

We only start composition after we receive payment and not already at time of original request.

This may have for consequence that a system being available at time of request, a few days latter suddenly lacks parts and can not be assembled. In worst case the part might take 6 weeks to arrive.
Then - frustration at both sides is pre-programmed.
---
We are aware that the above sketched means there is some time between payment and delivery. As explained here, we see however no alternative to this.

He who can not accept this situation should look for a reseller of his trust. On the internet quite a few resellers offer our products. Well, in most cases this way will not be quicker, but perhaps this reseller offers different payment conditions. Also, he does not have to assemble the system and - hopefully - has is on his shelves.
Warum?
We therefore can indicate a detailed delivery schedule only at a given moment. It can be that a system is available within 3 days at time A, but at time B this would need 4 weeks. To be on the safe side our shop therefore indicates the longer, safe delivery time.

General inquiries for delivery schedules are useless. We can quote them only on the basis of submitted orders. Any general request in advance "just to get to know delivery schedule" can only and will only be answered with the above general statement.


When you phone or mail us on the matter of delivery time before a sale you just get the above information. You only waste your and our time.

General requests for availability and delivery time led to nothing. Answers are always only be possible on the basis of executed orders. Any general request, "I want to order but need to know time beforehand" will result in the above. He who just wants to know some general guidance on time please takes a look at the traffic lights next to the product in our shop.